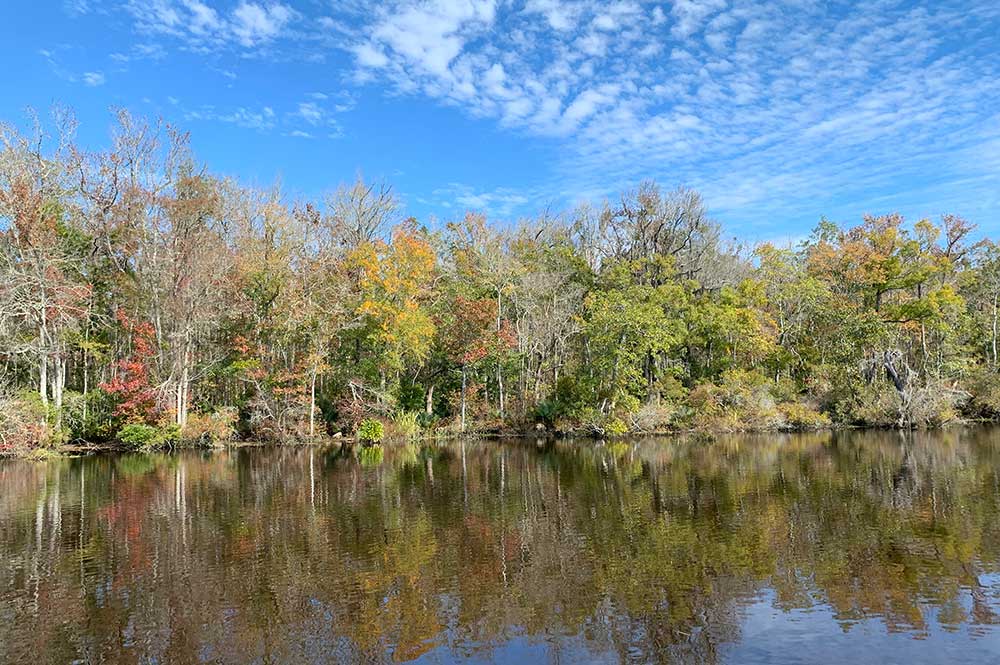 By Dorinda Dallmeyer
Rising from a lake four miles east of Fitzgerald, the Satilla River winds over 260 miles in extravagant loops across the Coastal Plain until it meets the Atlantic at St. Andrews Sound between Jekyll and Little Cumberland Islands. Because its 4,000 square-mile watershed lies wholly within the Coastal Plain, the Satilla carries little of the sediment that characterizes coastal rivers to its north. Instead its waters are clear, stained a dark brown with tannins washed in from rich floodplain forests of stately bald cypress and tupelo and the bordering pinelands. In the Satilla's upper reaches, white sand shoals gleam along its meanders, brightening the dark waters flowing over them. Closer to the coast, ocean tides change the river's flow far inland. It's stunning to stand on the Satilla's banks to witness the river diligently flowing "uphill" fifty miles upstream of its mouth only to watch it reverse course a few hours later.
Because the watershed is sparsely populated, the Satilla faces fewer impacts from urban development along its length than other coastal rivers. Its beauty and mosaic of habitats rich with wildlife have stimulated the growth of ecotourism, especially in the form of recreational paddling.  With the cooperation of state and county agencies as well as the non-profit sector, the Satilla River Water Trail now stretches 140 miles, from Jamestown Landing to Woodbine. In addition to paddling, the Satilla has long been renowned for its sportfishing, both for freshwater fish and in its estuary.
The Satilla Riverkeeper serves as the watershed's lead caretaker. Riverkeeper Laura Early describes her organization this way: "We are the eyes and ears of the watershed. Because the Satilla is not very densely populated along much of its length, we have a much more intact river environment to enjoy. On the other hand, it's more difficult to keep tabs on water quality without the assistance of our whole community, whether it's conducting routine monitoring or responding quickly to any problems that may arise. The value of a local Riverkeeper is having a professional organization dedicated to serving as a focal point for information and action. The support of donors to our general fund for our day-to-day work means we are here all year round, devoting our time, energy, and attention to stewardship of this precious resource."
According to Early, "Working with Georgia Adopt-a-Stream, we are training residents to become enthusiastic and dedicated citizen-scientists who conduct water quality monitoring in their own backyards and across the watershed.  We offer an interactive watershed education program to cultivate the next generation of river stewards. And we are working to increase the capacity of local governments to incorporate environmental issues into their planning processes."
While the rural nature of much of the watershed works to its advantage, many of the higher-growth areas of the basin are doubling in population every twenty years. In the absence of adequate zoning regulations and infrastructure, poorly-regulated development can adversely affect the economic, environmental, and cultural values the Satilla provides. As Laura Early puts it, "For so many people here, the Satilla is woven into their lives. It helps define who they are. They want to ensure the river has that same positive influence for generations into the future, and they are willing to work for this river which has given them so much."
https://stewardsofgacoast.org/wp-content/uploads/2019/12/GA-Coastal-Watershed-Part-IV.jpg
665
1000
John Lenz
https://stewardsofgacoast.org/wp-content/uploads/2018/03/stewards-logo.png
John Lenz
2019-12-11 15:52:07
2019-12-11 20:39:44
Georgia's Coastal Watersheds, Part IV: The Satilla