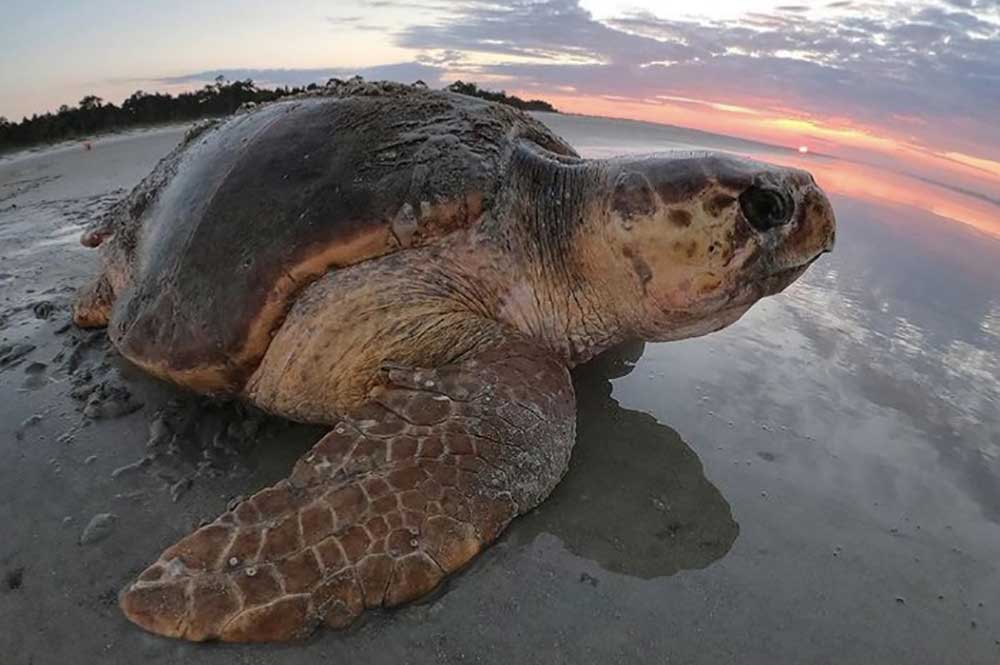 By Christa Hayes
George Parsons, born in 1826 and raised in Maine, worked with his brother to build successful business ventures in southern cities, including Savannah.  Parsons was known for his strong family ties, a concern for community needs, and generosity.  Parsons established a culture of giving in his family that would be handed down through the generations and it's left an indelible mark on Wassaw Island and continues to impact sea turtle conservation work taking place there today.
Parsons purchased Wassaw Island in 1866 as a gift for his bride, Sarah Eddy Parsons.  He went on to build a housing compound for his family and friends at the center of the island.  As the Parsons, their children, and their children's children spent time on Wassaw Island, they developed a deep love for it and an appreciation for the island's special character.  In 1930, with an eye toward the future, family members and others formed the Wassaw Island Trust to preserve Wassaw in its natural state.
In the 1960's, trustees became concerned that the state of Georgia might condemn the island and open it for development or public use (Georgia had purchased Jekyll Island under a condemnation order in 1947). In response, they made arrangements to convey Wassaw to the United States for permanent preservation as a National Wildlife Refuge.  To facilitate the transaction, the Nature Conservancy of Georgia bought Wassaw Island from the Trust for $1 million in 1969 and, in turn, sold it to the federal government for the same amount. The transaction carried three stipulations.  First, the island would remain in its natural state.  Second, no bridge could be built connecting the island to the mainland.  And, finally, the Wassaw Island Trust would retain 180 acres for on-going use, including the housing compound. Not surprisingly, Parsons family trustees would soon use their influence to make the island accessible and the property available for philanthropic and conservation purposes.
More than 150 years after George Parsons first cultivated within his family both a culture of giving and a love of the Georgia coast, his descendants continue that tradition by supporting sea turtle conservation with their time, personal commitment, and financial support.
In the early 1970s, volunteer herpetologists and the Savannah Science Museum launched a conservation effort focused on loggerhead sea turtles (Caretta caretta) out of a concern for the declining population.  A Parsons family member provided crucial support to the initiative, including transporting researchers and volunteers to Wassaw and providing housing.  This led to the 1972 founding of the Caretta Research Project. It was one of the first sea turtle conservation initiatives in the country and it continues today.  Caretta's on-going mission includes monitoring and protecting loggerhead sea turtle nests on Wassaw and educating the public about sea turtle conservation. Their efforts are successful with the continued support of private philanthropists. Their current needs include funding to purchase basic research supplies, including tags and applicators, as well as a new Kawasaki Mule. More details are available on the Coastal Conservation Project List.
https://stewardsofgacoast.org/wp-content/uploads/2020/12/IMAGE-7.jpg
665
1000
John Lenz
https://stewardsofgacoast.org/wp-content/uploads/2018/03/stewards-logo.png
John Lenz
2020-12-07 11:58:54
2020-12-08 10:53:13
Wassaw Island, The Caretta Research Project, and a 150+ Year Family Legacy of Philanthropy