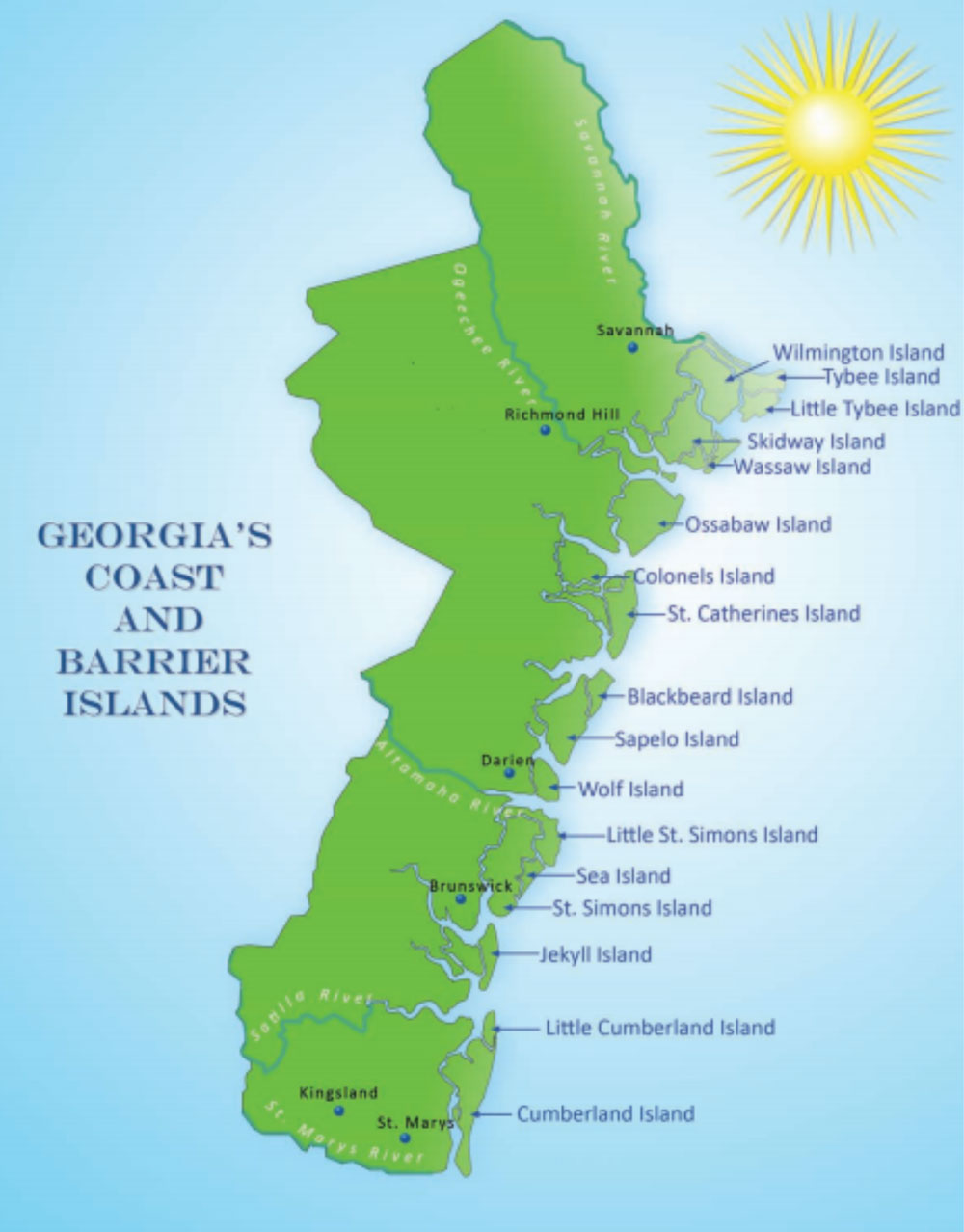 By Dorinda Dallmeyer
People may believe that children should visit pristine, magnificent places like America's national parks to develop a love of nature. On the contrary, many coastal conservationists recall fond memories of learning to love the Georgia coast by visiting the three Georgia barrier islands readily accessible by car. There they were able to dig to their heart's content in sand. A run into the surf took care of any mess — so different from the red clay of home. There were gentle waves, a chance to spot dolphins surfacing beyond the swells, and maybe a ship or two on the horizon to set you dreaming.
Along with Jekyll and St. Simons, Tybee Island became the foundation of childhood memories for many. In Tybee's case, its history of human visitation can be traced back over 4,500 years to early indigenous peoples who occupied this island along with neighboring Little Tybee and Wassaw. Here at the mouth of the Savannah River, these earliest Georgians feasted on its rich fisheries, leaving behind great shell rings as evidence of their success.
Although a variety of European colonial powers visited and claimed Tybee's shores, the arrival of English settlers in 1733 had the decisive impact, for these people planned to remain. One of their earliest construction projects at Tybee was a 90-foot-tall wooden lighthouse built in 1736 to guide ships through shoals at the river's mouth. Although storms and fires repeatedly destroyed a succession of wooden structures, by 1773 a 100-foot brick tower managed to survive until Confederate troops burned it to thwart its use by Union forces during the siege of Savannah. After the Civil War, the tower was rebuilt with an additional 94 feet of brick atop the remaining 60-foot base laid in 1773. Despite earthquake and hurricane, that's the structure that still stands today. It's one of the few 18th century lighthouses still operating in America, an enduring symbol of Tybee, and a drawing card for tourists. The lighthouse also lends its name to the phrase "from Rabun Gap to Tybee Light" which celebrates the geographic diversity of Georgia.
Tybee's location at the mouth of the Savannah River meant that it underwent many changes due to navigation and flood control activities throughout the Savannah River watershed. Flood-control dams built far upstream in the river's headwaters trapped sand that otherwise would have made its way downstream to Tybee's beaches. As far back as the 1890s, dredging plus construction of long jetties along the Savannah River's navigational channel also began to starve the sand supply to Tybee's beaches. One set of anthropogenic changes begat another. Since 1882, there have been more than forty Federal engineering projects to stabilize and renourish Tybee's beaches to protect homes and businesses and to provide ample dry beach area for recreational needs – an effort that continues today.
Organized tourism dates back to 1870, when the "Tybee Improvement Company" began to formulate plans to develop the island as a beach resort. Part of the island's draw was the opportunity to escape the bustle of Savannah; another was the emergence of the belief that salt air was healthy and rejuvenating. In 1873, small steam packet boats began to make daily runs to Tybee, and by 1876 there was a spacious hotel for overnight guests as well as a horse-drawn streetcar line from the boat pier down Tybee's "main drag." More restaurants and accommodations followed, along with beach-side pavilions for dancing or simply taking in the scenery.
People of that period were just as interested in speed of movement as we are today. To transport more visitors to the island more quickly than a multi-hour steamboat trip, construction started on the Savannah and Tybee Railway in 1886. Anyone who has ever ventured into the marsh understands that it would be no easy feat to lay a structurally sound roadbed across such soft ground cut by tidal creeks. Despite many challenges, the railbed was completed in late 1887. By 1890, the railroad had been purchased by the precursor of the Central of Georgia Railway, a major passenger and freight railroad serving Georgia and parts of Alabama and Tennessee.
The Central of Georgia took its new acquisition to heart. It printed color brochures featuring Tybee as a prime destination. Elaborate timetables and fare schedules showed Georgians all over the state exactly how long it would take to get there and ticket costs, including discounts for multi-day visits. It was an easy transfer from the main Savannah railroad station to the Tybee depot on Randolph Street, where passengers knew the Atlantic awaited after chugging across 18 miles of marsh. Going by rail instead of by boat cut that travel time in half. In 1910, the railroad carried over 160,000 people from Savannah to Tybee; a roundtrip ticket cost 40 cents (about 26 dollars today, adjusting for inflation).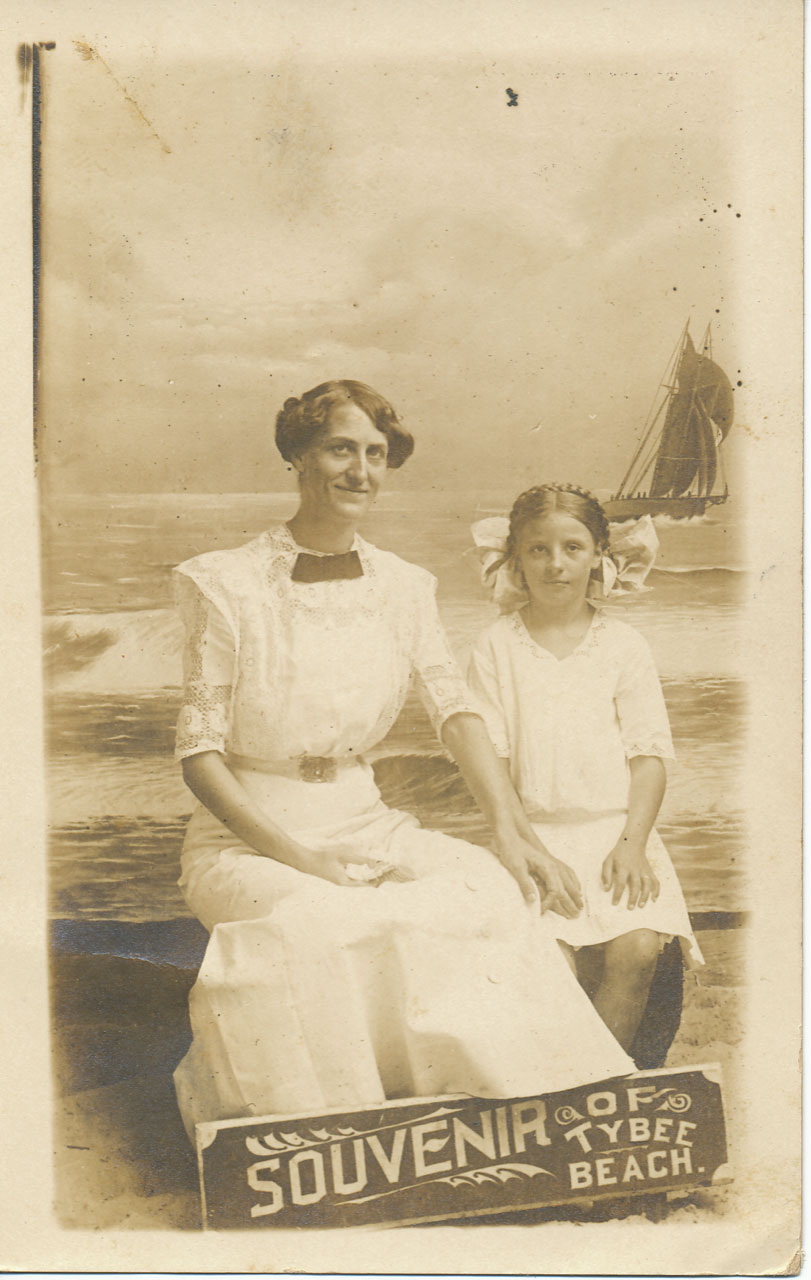 Like their predecessors, the railroad constructed hotels, restaurants, and attractions for all these tourists. Other entrepreneurs built their own cottages, boarding houses, and pavilions to accommodate the throngs enjoying the beach. And there were plenty of them, like my great-grandmother Bessie Andrews Haddock with her daughter Elizabeth who memorialized their visit in this photo postcard, dressed in their finest and posed in front of a painted ship on a painted ocean.
Not surprisingly, the rise of the personal automobile spelled the end of the railroad. In 1923, what we know today as U.S. 80 opened to parallel the railroad. No longer would visitors have to accommodate a train schedule or brush off cinders from the steam engine once they arrived. Supplanted by the automobile, rail service ended in 1933. Although it no longer will take you all the way to Tybee, approximately six miles of the old railbed now are the McQueen's Island Trail, providing pedestrians and cyclists the opportunity to enjoy the salt air and sea breeze at a slower pace.
Tybee continues its growth, both as "Savannah's beach" and as a magnet for visitors around the country. Recent figures estimate that Tybee draws more than a million visitors annually. Thanks to the work and generosity of conservation philanthropists, a new facility will open in Spring 2021 for Tybee Island visitors and residents alike: The Tybee Island Marine Science Center. The 5,000 square foot new center is located on Tybee's North Beach and features views of the Atlantic Ocean and the Calibogue Sound at the Savannah River Entrance. It has the capacity to reach over 100,000 people annually, connecting them to the stewardship of Georgia's coast through hands-on education and conservation programs. Fundraising efforts to complete the exhibits are still underway. Here are details on how to support the project.
Neighboring islands offer a different kind of coastal experience. Little Tybee Island is a favorite place to explore by kayak and for overnight camping. Comprised of 6505 acres of undeveloped salt marshes and tidal creeks and 3.5 miles of beach, Little Tybee is accessible only by boat. It is owned and managed by the state of Georgia, with a conservation easement retained by The Nature Conservancy. Wassaw National Wildlife Refuge preserves a snapshot of Georgia's original coast, reminiscent of what those first "tourists" would have seen thousands of years ago. Its timber was never cut nor was the island put to the plow. As part of the Savannah Coastal Refuges system, Wassaw also is accessible only by boat. It is open from sunrise to sunset for low-impact activities such as hiking, picknicking, and birdwatching.
In addition to all those humans, Tybee, Little Tybee, and Wassaw host a wide variety of bird life, visitors and residents alike. In the fall of 2018, the Western Hemisphere Shorebird Reserve Network designated much of the Georgia coast as a Landscape of Hemispheric Importance, including portions of Tybee as well as the Wassaw National Wildlife Refuge. The designation recognizes the Georgia coast's importance to migratory birds, who winter here or refuel and rest on round-trip journeys that may span from the Arctic to Tierra del Fuego.
Like all of Georgia's islands connected to the mainland by causeways, Tybee faces challenges from balancing tourism with its year-round residents' quality of life, managing growth to avoid the destruction of its environmental amenities which bring people there in the first place, and adapting to the inexorable rise of sea level. The decisions made today will ensure that Tybee's sandy beaches continue to inspire generations yet to come.
https://stewardsofgacoast.org/wp-content/uploads/2020/12/IMAGE-4.jpg
1278
1000
John Lenz
https://stewardsofgacoast.org/wp-content/uploads/2018/03/stewards-logo.png
John Lenz
2020-12-07 12:00:58
2020-12-08 10:52:57
Tybee Island History and Tourism