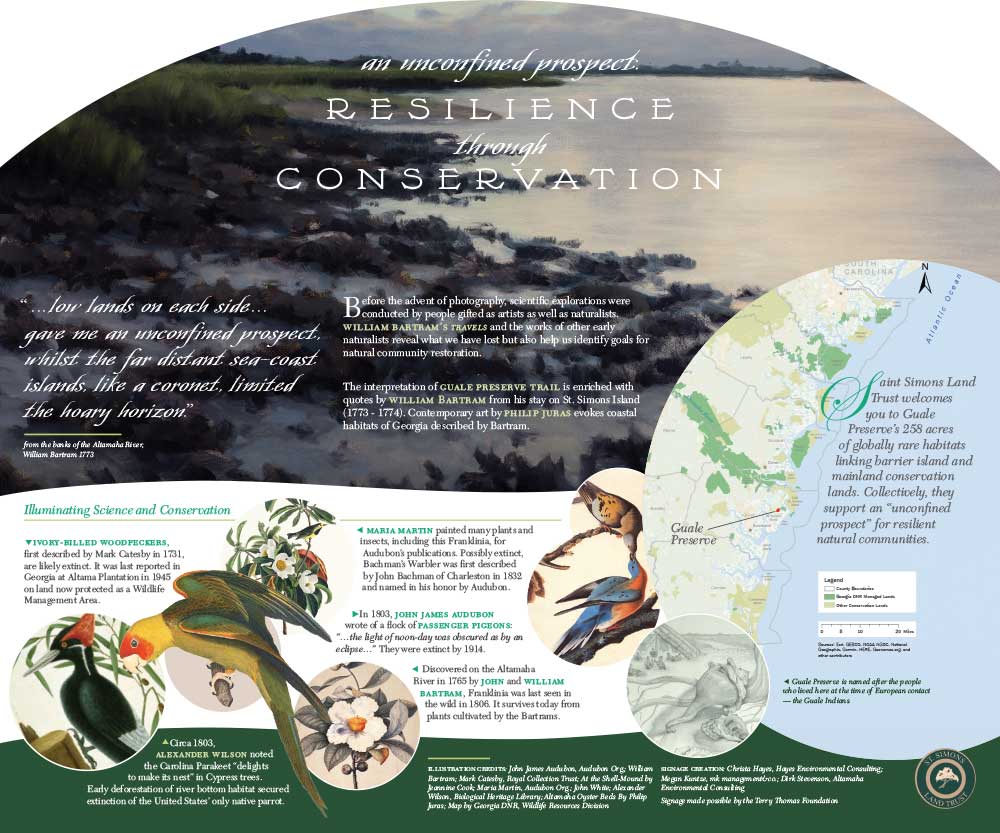 By Burch Barger
On your next visit to St. Simons Land Trust's Guale Preserve, be sure to check out the new interpretive signage posted along Polly's Trail.  Coastal naturalist Christa F. Hayes used observations from William Bartram's 18th century explorations of the British colonies in North America as a unifying theme for the signs, which contain interesting facts about St. Simons and its diverse flora and fauna.
In her opening words posted on the trail, Christa notes "the writings and illustrations of William Bartram, along with the work of other early naturalists, reveal some of what we have lost, but also illuminate the rich biodiversity that remains in our care. Their legacy helps us identify goals for natural community restoration today."
On a related note, readers may remember this 2016 Shoreline story about the Kickstarter campaign to fund the documentary film Cultivating The Wild: William Bartram's Travels. Co-produced by Eric Breitenbach and Dorinda Dallmeyer, the film presents a scholarly examination of the scientist's life and work as well as a meditation on what has come to pass in the more than two hundred and twenty years since Bartram traversed the pre-Colonial South. The film is available here for online viewing.
https://stewardsofgacoast.org/wp-content/uploads/2021/06/Image-7-Bartram-Sign.jpg
833
1000
John Lenz
https://stewardsofgacoast.org/wp-content/uploads/2018/03/stewards-logo.png
John Lenz
2021-06-25 14:31:15
2021-06-25 14:31:15
The Lasting Impact of William Bartram's Writings and Illustrations