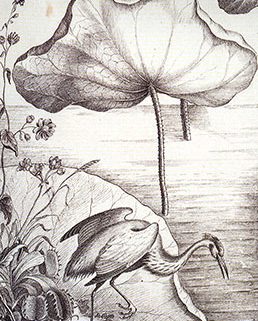 More than two centuries have passed since the publication of botanist William Bartram's Travels in 1791. Bartram's descriptions of his journey through the American South between 1773 and 1777 continue to ignite the imagination of those who love nature and the thrill of discovery. In addition to Bartram's catalogue of the region's flora and fauna, Travels also contains some of the first written descriptions of early American society and the culture of both Cherokee and Creek Indians. A moral visionary, Bartram countered the notion of American Indians being "savage" and in need of civilization. His writings are still examined by scientists and historians seeking a better understanding of the Southeast.
A new documentary film, "Cultivating The Wild: William Bartram's Travels," is now in production.  Co-produced by Eric Breitenbach and Dorinda Dallmeyer, the film presents a scholarly examination of the scientist's life and work as well as a meditation on what has come to pass in the more than two hundred and twenty years since Bartram traversed the pre-Colonial South.  The differences between the landscape Bartram experienced and described and what we know today are striking.  Sadly, the region's natural resources have suffered mightily from neglect and exploitation. The film will make a committed stand for protecting our natural world by telling Bartram's story and the stories of select modern day "Bartrams" – people who continue his work and philosophies today.
This independent film is being made possible by the dedication of its co-producers and the generosity of a host of donors who contributed over $30,000 by way of a "Kickstarter" campaign. With its focus on bringing creative projects to life, Kickstarter.com is one of several web-based crowdfunding platforms where entrepreneurs seek financial support for their projects and ventures from a large number of people.  It's estimated that crowdfunding campaigns generated over $34 billion in 2015.
The Bartram Kickstarter campaign drew support from as far away as Iceland and India and included contributions from direct descendants of the Bartram family.  The project also has strong coastal ties.  William Bartram visited Wormsloe Plantation with his father, John Bartram, 251 years ago in 1765. William returned to Savannah in April of 1773 to spend a full year exploring the natural communities along the coast of Georgia. He left us with a rich legacy of our biological heritage. Reinforcing the durability of ties to William Bartram in coastal Georgia are substantial donations to this film from the Wormsloe Foundation and the Wormsloe Institute for Environmental History.
If you are interested in learning more about the project or making donations to defray post-production costs, please visit the film's website: www.cultivatingthewild.com.
ILLUSTRATION: WILLIAM BARTRAM, TRAVELS
https://stewardsofgacoast.org/wp-content/uploads/2016/11/bartram.jpg
399
258
John Lenz
https://stewardsofgacoast.org/wp-content/uploads/2018/03/stewards-logo.png
John Lenz
2016-11-15 16:35:47
2018-03-06 14:57:12
Coming to a Screen Near You: "Cultivating The Wild: William Bartram's Travels"