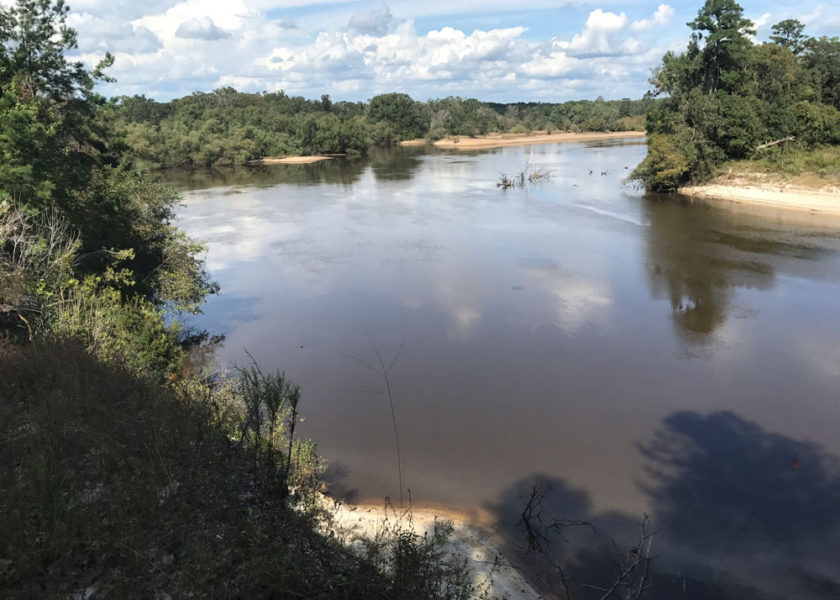 By Dorinda Dallmeyer
Known for creating conservation solutions that "make environmental and economic sense," The Conservation Fund is one of many partners collaborating on land conservation in the Altamaha watershed.  Andrew Schock, the Fund's Georgia State Director, explains how the organization works in the Altamaha Corridor. "The Fund is able to provide a dedicated source of bridge capital that allows us to quickly acquire threatened forests with high conservation value. While we own, restore, and sustainably manage these lands as working forests, we work with our conservation partners to raise the funds to permanently protect them. When we relinquish control, the funds we receive are plowed back into conserving more tracts."
"The Conservation Fund's purchase of the Sansavilla Tract, a 20,000-acre parcel with 12 miles of Altamaha River frontage, is a great example of how we work," observed Schock.  "It provided the state of Georgia breathing room to put in place a permanent conservation plan.  In the interim, we were able to harvest timber and begin restoring the native longleaf pine forest.
As with many of The Conservation Fund projects, private philanthropy played a critical role. Schock explains, "The Knobloch Family Foundation made a substantial early commitment providing some of the needed acquisition capital and The Robert W. Woodruff Foundation helped significantly at the end to close the gap as the property was being transferred to the State.  We were able to work with the State and other partners, like The Nature Conservancy, to leverage these private funds with grants from the U.S. Fish and Wildlife Service, the U.S. Forest Service 'Forest Legacy' program, state bond dollars, and funds from the Department of Defense."
According to Schock, "Here in Georgia, and particularly along the Altamaha, we have a very collaborative and collegial land conservation community that works closely together. Coalition members may have differing motivations for being involved with conservation, and that's fine. Regardless of the motivation, we're working in common to achieve the same goal."  Schock concluded, "Sansavilla is a wonderful success story.  Without the help of all our partners, the property would likely have been fragmented, leaving the habitat and watershed degraded, and public access for recreation eliminated."
The Conservation Fund offers a variety of ways for donors to support conservation in Georgia and elsewhere. For more information, please see www.conservationfund.org.  For more about the Sansavilla Tract and the Gopher Tortoise Initiative of which it's a part, see volumes 3 and 4 of Shoreline.
Photo by Scott Coleman
https://stewardsofgacoast.org/wp-content/uploads/2019/05/IMG_8857.jpg
714
1000
John Lenz
https://stewardsofgacoast.org/wp-content/uploads/2018/03/stewards-logo.png
John Lenz
2019-05-28 14:13:29
2019-05-29 16:12:20
The Conservation Fund: Conserving Land Along the Altamaha