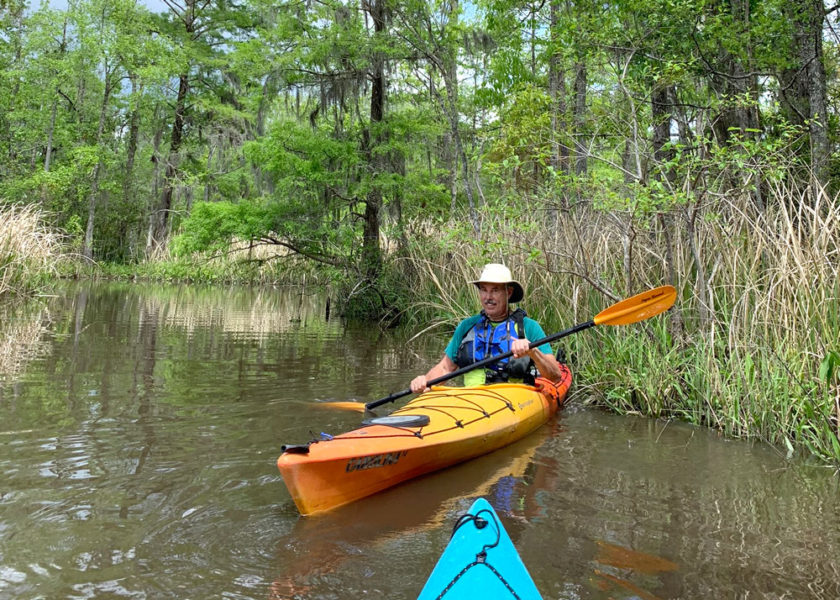 By Dorinda Dallmeyer
If you want to experience the mighty Altamaha watershed firsthand, it's now possible to paddle 443 miles on designated water trails from near the river's headwaters east of Lithonia all the way to Darien. It's not quite "from the summit to the sea" but a paddler can experience the journey that raindrops take from the Piedmont to the coastal marshes.
The Yellow River Water Trail runs for 55 miles south from Gwinnett County to Jackson Lake, where the confluence of the Yellow, South, and Alcovy Rivers that form the Ocmulgee has lain submerged since 1910. Below the dam, the Ocmulgee Water Trail extends for 250 miles to its confluence with the Oconee River just upstream from the Highway 351 bridge south of Uvalda.  Then the Altamaha Water Trail takes over for the final 137-miles jaunt to its delta.
It's estimated that Georgia has more than one million paddlers who enjoy this form of home-grown ecotourism and the economic impact is significant.  According to the Georgia River Network, canoeing, kayaking, and rafting contribute $11.3 billion to Georgia economy annually. As a bonus, water trails often require lower implementation costs compared with other forms of economic development.
During the 2018 legislative session, the Georgia House of Representative unanimously passed a resolution voicing support for the Georgians who thus far have created more than 1000 miles of water trails statewide and encouraging the development of more opportunities for people to reconnect with Georgia's rivers. And if that 443 miles leaves you wanting more, the Georgia Coast Saltwater Paddling Trail offers another 170 miles of paddling from the Savannah to the St. Mary's.
For more information about Georgia's water trails, please visit https://www.garivers.org/gwtc; for information about paddling the Altamaha River or providing philanthropic support to increase river access, contact Jen Hilburn at 912-441-3908 or jen@altamahariverkeeper.org. Jen serves as the Altamaha RiverKeeper.
Photo by Altamaha RiverKeeper
https://stewardsofgacoast.org/wp-content/uploads/2019/05/IMG_0240.jpg
714
1000
John Lenz
https://stewardsofgacoast.org/wp-content/uploads/2018/03/stewards-logo.png
John Lenz
2019-05-23 18:13:34
2019-05-29 13:47:17
Water Trails