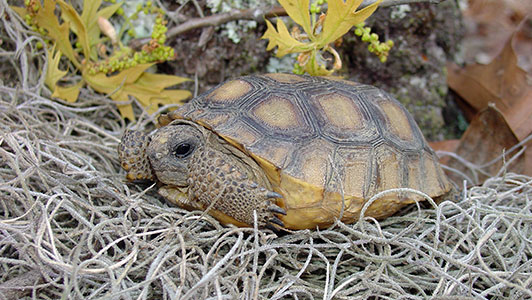 When a conservation initiative protects an at-risk species and business and industry interests at the same time, it's a win-win for Georgians across the board.  The Gopher Tortoise Initiative does just that.  Supporters for this collaborative effort include federal and state agencies, private landowners, non-profits, donors and business leaders from the Georgia Chamber of Commerce.  The consortium's goal is to permanently protect 100,000 acres of gopher tortoise habitat across Georgia's coastal plain, preventing Georgia's state reptile from getting to the point of needing to be listed by the U.S. Fish & Wildlife Service as an endangered species. Though early in the effort, the group is already delivering uncommon results.
The problem for gopher tortoises is habitat loss. Tortoise populations need large parcels of undeveloped land and only remnants remain of their native longleaf pine and sandhill ecosystems.  In the face of increasing fragmentation from development – roads, parking lots, and buildings – they can't find sufficient burrow space or food and are more likely to experience risks associated with close contact with humans and their vehicles.  "They get pushed from the small patches of suitable habitat to the sandy roadsides of timberlands or agricultural fields," explains Jason Lee, Program Manager for Coastal Nongame Conservation with the Georgia Department of Natural Resources. "It is dire.  In 20-30 years they could be pushed out altogether from many areas…gone."
The tortoises are considered a keystone species because their burrows provide shelter and refuge for hundreds of other species of animals, including the Eastern indigo snake, the gopher frog, and many small mammals, insects and birds. When the tortoise populations decline, so does the habitat of  many other plants and animals.
If the tortoise population was at the point of needing to be listed under the Endangered Species Act, significant regulatory requirements could drain energy, resources and enthusiasm from efforts to facilitate the species' recovery. The Gopher Tortoise Initiative unites landowners, timber growers and businesses across the state to proactively enhance gopher tortoise populations and habitats.  The result is a powerful convergence:  everyone's working together to prevent the listing.  What's good for the gopher tortoise is good for landowners, businesses, and an entire ecosystem. If successful, they will also be conserving iconic habitats on a historic scale, demonstrating how tortoises, landowners, and industry can coexist.
With generous commitments of financial resources and expertise from founding team members including U.S. Department of Defense, U.S. Fish and Wildlife Service, Georgia Department of Natural Resources, The Nature Conservancy, The Conservation Fund, and conservation donors including the Knobloch Family Foundation and the Bobolink Foundation, the Gopher Tortoise Initiative is well on its way. "We are more than half way to our goal," said Jason Lee. "Thirty six of the sixty five properties we have identified as suitable tortoise habitat are now under conservation easements or have been acquired fee simple. One of our most recent acquisitions, the Altama Wildlife Management Area, located on the coastal mainland along the south bank of the Altamaha River, currently has a population of 182 tortoises with room for the population to expand.  Another property just up river, Sansavilla, has 400 tortoises."
"Our goal is to protect gopher tortoise habitat now, while lands are still available that can be managed to sustain healthy populations," said Lee.  He explained that the investment we make today in protecting their habitat will eliminate the need for costly impact studies and mitigation that could be required in the future if the gopher tortoise is listed as an endangered species.  "We have a rare opportunity in that we have time to fix this," he said.  "It's good conservation."
"The gopher tortoise habitat won't recreate itself," said Lee. "Management efforts will be necessary, such as prescribed burning, removal of woody undergrowth, longleaf pine tree planting, and restoration of native grasses, and there are costs involved with that." The Gopher Tortoise Initiative includes the establishment of a fund that will be used to help cover the costs of habitat restoration.
Carl W. Knobloch, Jr., a philanthropist and major supporter of the Gopher Tortoise Initiative, who passed away in 2016, believed "the preservation of natural ecosystems is critical to the continued economic strength of the country, as well as the health of all Americans."  The Gopher Tortoise Initiative presents the opportunity for donors, large and small, to invest in the preservation of a rare species and, at the same time, an entire ecosystem.  From co-investment in the Initiative's land protection goals to operating support for the non-profit partners, there's a place for everyone to make a meaningful contribution.  For a list of participating organizations, click here.
https://stewardsofgacoast.org/wp-content/uploads/2017/04/GopherT.Dirk-Stevenson.jpg
300
532
John Lenz
https://stewardsofgacoast.org/wp-content/uploads/2018/03/stewards-logo.png
John Lenz
2017-04-12 14:06:11
2018-03-06 14:57:48
The Gopher Tortoise: A Catalyst for Conservation