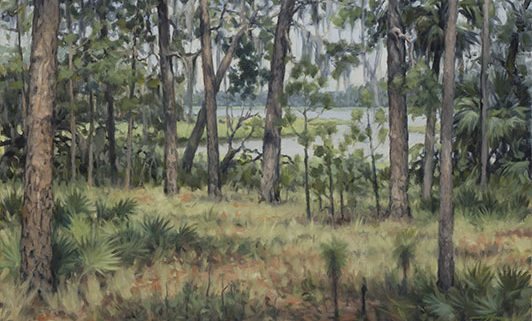 A highly collaborative restoration effort is underway at Wormsloe, a historic plantation site on the Isle of Hope near Savannah, Georgia.  Entering its third year, the objective is to restore a native, maritime longleaf pine community and monitor effects of sea level changes on this rare habitat. Longleaf pine communities were once dominant across the coastal plain and they support a great diversity of plant and animal life, an estimated 100-300 species per acre.  This long-term restoration and research effort will inform future conservation taking place along the Georgia coast.
The project is funded by philanthropists Craig & Diana Barrow and the Wormsloe Foundation.  The Barrows are long-time donors to coastal conservation efforts and they've been particularly supportive of applied research – scientific inquiry designed to inform real-time conservation practices.  Craig Barrow observed, "As the ninth generation to own and live at Wormsloe, we have a very strong sense of stewardship. Diana and I believe that if Wormsloe is going to exist for future generations it has to be driven by research and education."
Wormsloe's longleaf restoration project has been made possible with assistance from the Joseph W. Jones Ecological Research Center, the Longleaf Alliance, and the Georgia university system. "It is a multi-disciplinary effort," said Sarah Ross, Director of Education and Research for the Wormsloe Foundation. "The State Botanical Gardens of Georgia in Athens supplied us with 4,000 seedlings.  In addition, we collected seeds from native understory species on the nearby barrier islands of Sapelo, St. Catherines, and Little St. Simons."  Jon Calabria, Assistant Professor at the UGA College of Environment and Design heads the restoration team.  Landscape architects from the Odum School of Ecology set up research plots to study seedling survival rates and the success of different native grasses in the understory. Students from Savannah Country Day School, whose science program partners with Wormsloe, planted left over seedlings on their campus.
"We are also using emerging research tools to create 3-D models to forecast the effects of changing sea levels on longleaf," said Ross.  "With this research, we are getting the type of data that will enable us to ask and answer more sophisticated questions about the impacts of sea level rise.  This will inform and help guide conservation efforts elsewhere on the coast."  Three years in, the project is coming along nicely.  "We've had our first prescribed burn and the seedlings are doing well," reports Sarah Ross, "They are looking green and robust."
This type of applied research and similar projects conducted at Wormsloe is a vital component of coastal conservation.  Lessons learned from these projects will inform conservation management practices, restoration efforts, and policy making.  The Barrows' commitment of charitable resources to this type of research has great implications that extend far beyond the boundaries of their property.
https://stewardsofgacoast.org/wp-content/uploads/2017/04/201207-21longleafofwormsloe-1.jpg
414
532
John Lenz
https://stewardsofgacoast.org/wp-content/uploads/2018/03/stewards-logo.png
John Lenz
2017-04-12 14:01:38
2018-03-06 14:57:48
Private Philanthropy Fuels Applied Research at Wormsloe