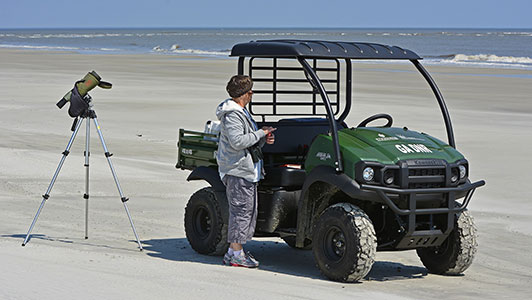 Thirteen donors joined forces in a crowdfunding effort to raise $10,000 toward equipment needed for shorebird conservation on Cumberland Island.  The concept emerged during the 2016 Conservation Donors Roundtable when it was announced that the National Fish & Wildlife Foundation (NFWF) had awarded $75,000 for the first year of a 3 year collaborative shorebird conservation effort led by Georgia DNR's Non-Game section.  With NFWF funding and in-kind support from partners the project had everything needed for Year 1 except a four wheel drive all terrain vehicle (ATV) for use on Cumberland Island and trail cameras.  An ATV is essential for covering Georgia's longest beach — nearly 18 miles.  High definition, infrared cameras are needed for placement near nests to confirm cause(s) of breeding failure or success.
With the donated funds, a new Kawasaki 4×4 "Mule" was purchased and delivered to Tim Keyes of Georgia DNR's Non-Game section along with nine Cuddeback E2 IR Long Range Trail Cameras.  The beautiful thing about crowdfunding this type of project is that every dollar matters.  Gifts ranged from $250 to $2,000 and included matching grants from two private foundations.  The following conservation donors contributed to the project's success:  a donor who wishes to remain anonymous, Boog & Sam Candler, Beth Holder, Wanda Hopkins, Cody Laird and the Dobbs Foundation, Jeannie Kauffman Manning, Joe Massey, Jim & Sally Morgens and the Morgens West Foundation, and David Weitnauer.
The project's success is also due to growing collaborative efforts by the Communities of Coastal Georgia Foundation (CCGF) and Stewards of the Georgia Coast.  Many thanks to Paul White, CEO of CCGF and his predecessor, Valerie Hepburn.
Crowdfunding bears out the old adage: many hands make for light philanthropic work!
https://stewardsofgacoast.org/wp-content/uploads/2017/04/GADNRmule.Keyes_.jpg
300
532
John Lenz
https://stewardsofgacoast.org/wp-content/uploads/2018/03/stewards-logo.png
John Lenz
2017-04-12 14:00:21
2018-03-06 14:57:48
Crowdfunding Produces Win for Shorebird Conservation