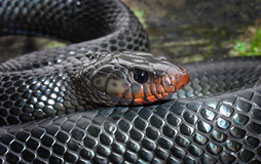 The Nature Conservancy (TNC), the United States Marine Corps (USMC) and the Georgia Department of Natural Resources (GDNR) have partnered to protect a 3,986 acre tract along Georgia's Altamaha River, in Glynn County.
Altama Plantation Wildlife Management Area was protected via TNC acquisition and the subsequent sale of a restrictive easement to the USMC, and encumbered fee to DNR in September 2015. It is a significant link in a 120-mile-long wildlife corridor connecting Fort Stewart to the Okefenokee Swamp. With its extensive tidal freshwater wetlands and pine flatwoods, Altama Plantation WMA supports substantial habitat for wildlife, including Georgia's official state reptile, the gopher tortoise, and the federally listed Eastern indigo snake.
James Hamilton Couper (1794-1866), a native of coastal Georgia, ran Altama as a cotton, sugar and rice plantation from 1827 to 1865. He is famous for leading the survey for the Georgia-Florida boundary and designing Christ Church in Savannah, but was equally admired in his time as a scientist and agricultural innovator. Couper collected the first recorded specimen of the Eastern indigo snake in 1842 in the dry pine hills south of the Altamaha River. It is North America's longest snake, reaching up to 6.5 feet.
This impressive snake was named Drymarchon couperi in his honor by John Edwards Holbrook, a famous herpetologist and Couper's contemporary. The common name, however, reflects the snake's most notable feature, a lustrous, deep blue color. Holbrook describes the color of this impressive snake as "a deep, bright bluish-black, of a beautiful metallic lustre in the sun" evoking the deep blue of indigo, another crop of the plantation era.
The stunning presence of the Eastern Indigo Snake inspired its scientific name, Drymarchon couperi, which translates from Greek as Lord (archon) of the Forest (drymos). )
https://stewardsofgacoast.org/wp-content/uploads/2016/06/indigo-snake.jpg
164
261
[email protected]
https://stewardsofgacoast.org/wp-content/uploads/2018/03/stewards-logo.png
[email protected]
2016-06-21 14:09:12
2018-03-06 14:48:36
Altama Conserved