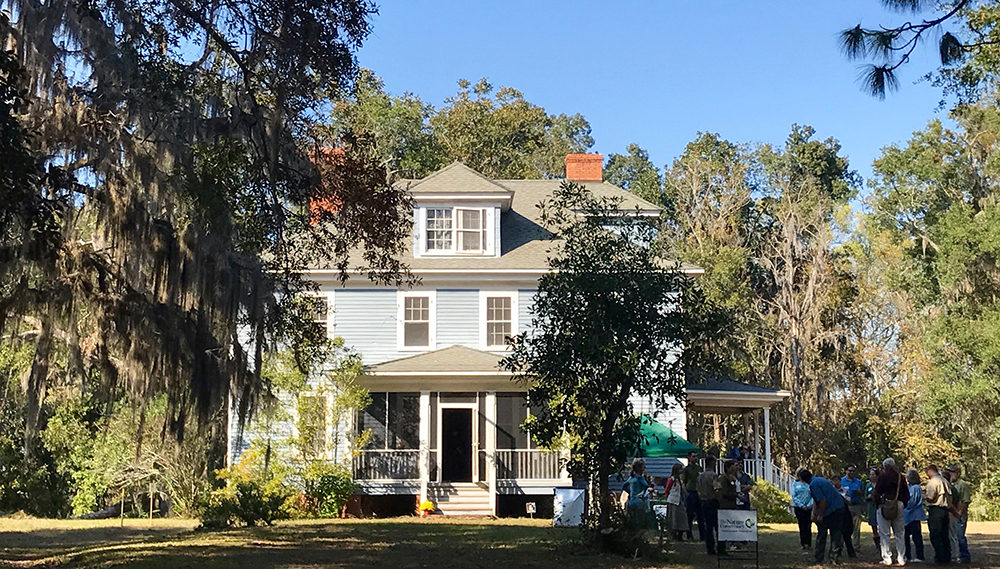 ($2,500 committed/$27,500 needed)
In 2015, The Nature Conservancy acquired 4000 acres in the Altamaha watershed, strategically positioned where the river meets the salt marsh in Glynn County—the historic Altama tract. Today, the property is owned and managed by the Georgia Department of Natural Resources as the Altama Wildlife Management Area with The Nature Conservancy as a permanent resident. In addition to the extraordinary landscape, Altama is home to historic buildings and other structures. Given the location of the property and the opportunity these structures represent, TNC plans to explore a restoration of the facilities and the possibility of using the buildings for management purposes, research and to anchor a coastal conservation center to be known as the Altama Conservation Gateway.
Altama is strategically located to become a Gateway for the Coast and a Center for conservation, land management and coastal resources education in the region. A Master Site Plan for the property and core building area is needed to engage stakeholders and donors in the planning process. The planning process would include but not be limited to assembling and digitizing information on the property's natural, historical and cultural features; artist renderings of the project; formation of an advisory committee to assess historical structures, landscaping, public use and conservation issues related to the transformation of the property; conceptualization of programs outside of traditional conservation such as historic preservation efforts, cultural and artistic uses of the center, and a collaboration with the region's robust tourism industry; and, an economic analysis that considers the cost to bring the buildings to usable condition, ongoing maintenance expenses, and potential for revenue generation. For more information or to make a contribution, contact Christi Lambert at 912-617-0143 or clambert@tnc.org. Christi serves as the Director of Coastal and Marine Conservation for The Nature Conservancy in Georgia.
View the Coastal Conservation Project List.
Photo by Scott Coleman
https://stewardsofgacoast.org/wp-content/uploads/2019/05/Altama-Office-.jpg
569
1000
John Lenz
https://stewardsofgacoast.org/wp-content/uploads/2018/03/stewards-logo.png
John Lenz
2019-05-23 17:22:24
2019-05-29 18:41:54
Coastal Conservation Project List 2.0 – Featured Project: Altama Conservation Gateway – Master Site Plan