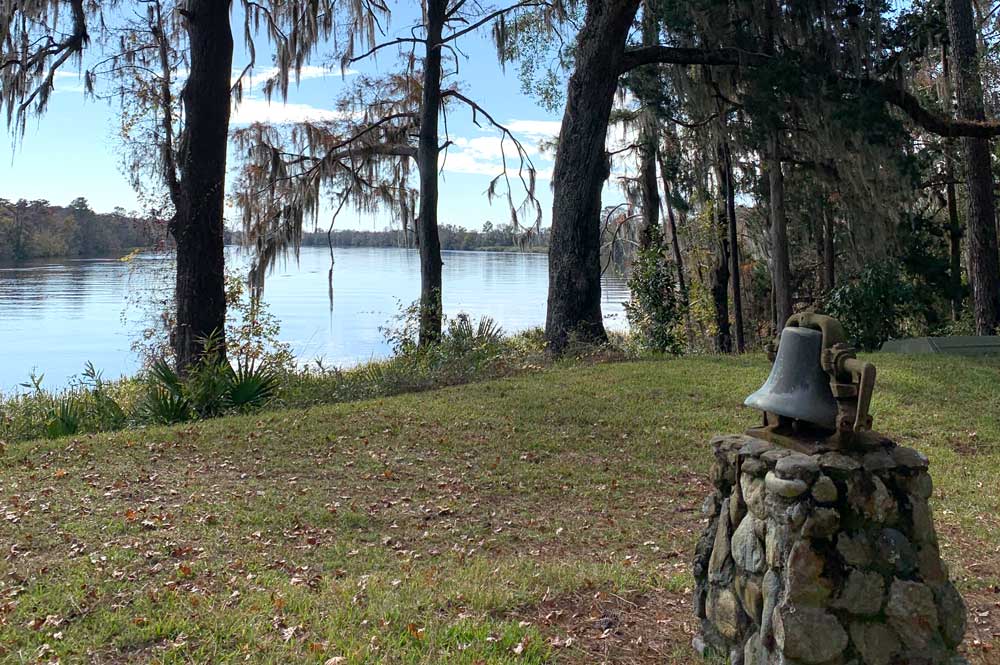 A native of Saint Simons Island, Bill Strother has a special vantage point from which to observe and enjoy the Satilla River: the high bluffs of 1700-acre Ivanhoe Plantation – a varied landscape of marsh, fallow rice fields, pine forest, and wetland hardwood nestled along two miles of Satilla River frontage. From his earliest years, Bill has wandered the woods and waterfront of Ivanhoe, delighting in its flora and fauna, and now he is dedicated to preserving it and its critical wildlife habitat for future generations.
In 1955, Bill's father and a group of friends purchased Ivanhoe as a timber investment and duck hunting retreat. Ivanhoe's rich history includes lore of William Bartram traversing it to reach the Satilla River. In the mid-1800s, Ivanhoe was among the largest rice plantations in Georgia. When the lumber business boomed in the years that followed, it housed a sawmill that employed over 400 people.
Today – thanks to the stewardship of Bill and his fellow Ivanhoe shareholders –  the sounds of sawmills have been replaced by the lonesome whistle of rare swallow-tailed kites, gliding on thermals above the old rice fields. They manage the quiet retreat for turkey and deer habitat and timber on the high ground and for waterfowl in the wetlands. Committed to protecting native wildlife and to restoring the natural ecosystems, in 2017 the Ivanhoe shareholders put 1400 acres under conservation easement managed by the Natural Resources Conservation Service (NRCS), an agency of the U.S. Department of Agriculture.
Working together with NRCS, Bill and his partners are protecting and cultivating a 150-acre impoundment that provides vital aquatic wildlife habitats. Beneficiaries of this conservation partnership also include the swallow-tailed kite, white ibis, wood storks, roseate spoonbills, bald eagles, many species of shorebirds and songbirds, and the waterfowl that prompted Bill's father and his friends to purchase Ivanhoe so many years ago.
Listening to him speak about decades spent nurturing and enjoying Ivanhoe, you see Bill's eyes sparkle with stories about catching catfish and about the fruits of reforestation efforts and timber management.  A few years ago, Bill took a Georgia Forestry Commission certification course to learn prescribed burning techniques necessary for propagation of longleaf pine forests and the survival of keystone wildlife species such as the gopher tortoise, an animal that – in turn –  creates necessary habitat for endangered and threatened species like the indigo snake, eastern diamondback rattlesnake, and gopher frog.
But Bill's greatest joy seems to be in passing on this love of nature to the next generation.  In the spring, you may find him teaching his 8-year-old cousin, George, how to cut a firebreak and use a drip-torch in the longleaf pine forest; in the fall you may find him showing his 2-year-old granddaughter, Ansley, how to navigate a pontoon along the Satilla. Bill's most enduring legacy at Ivanhoe may yet be the example of stewardship he sets by dedicating time, talents, and resources to protecting, preserving, and nurturing our Georgia coast.
https://stewardsofgacoast.org/wp-content/uploads/2019/12/Satilla-Steward-Bill-Strother.jpg
665
1000
John Lenz
https://stewardsofgacoast.org/wp-content/uploads/2018/03/stewards-logo.png
John Lenz
2019-12-11 16:01:17
2019-12-12 13:31:44
Bill Strother, Steward of the Satilla